If you like beach and lake water, you will love Superior Beach House. From the Chocolay River to the West to Shot Point on the East, is a stretch of 20 miles of unobstructed white sand beach!
Our "Beach House" is a 2-bedroom, cozy cottage. It accommodates 6 people and is conveniently located just 8 miles east of the City of Marquette.
You will enjoy walking the endless sand beaches, swimming in the refreshing Lake Superior surf or viewing the Marquette skyline across Lake Superior. Bring your own kayak and launch right off the beach! Fisherman will find endless choices in the Marquette area for guided BIG lake, stream and inland waters. If you like biking, paved trails are accessible without driving, and mountain bikers will find world class trails just minutes away. Hiking, golf and fine dining are all just minutes away, but be sure to leave time to pick a few wild blueberries or, in the evenings, roast marshmallows over a beach fire!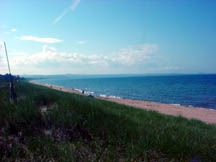 The beach house has a master bedroom with 1 full bed; the second bedroom features 1 full bed and a set of bunkbeds. The living room is quite large, a panoramic lake view can be seen from the picture window. The kitchen is fully equipped and includes a microwave oven, coffeemaker, cookware and dishes. Linens and towels are also included.
HISTORY:
"Camp," as a true Yooper affectionately calls a summer cottage or beach house, was the name our family gave to this place. In 1960 the Bennetts family "camp" was hand built, board by board, by Sue's father, Roger Bennetts. The Bennetts family had a family home in town on Magnetic Street, about 8 miles away! Roger was a business man, part owner of a small industrial supply and service company in Marquette and Sue's mom, Louise, was a homemaker.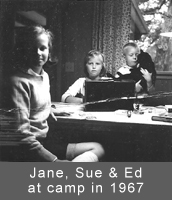 Every summer, mom packed the car with linens, Finnish rugs and groceries. Sue and her two sibs, Jane and Ed, and the dog, rode to camp for the not so big summer move out. We even complained about the "long" eight-mile ride! Mom would tell us to count curves on Lakewood Lane to make the time pass faster! Times were different then, but the U.P. was a different place then, and STILL is!
Most people say the beach house looks like a throw back to the 1960's. It is filled with happy memories of time spent there for the last five decades. Jane, Sue and Ed swam in the surf and played on the dunes, eventually, all the grandkids came and did the same. We have kept the interior decorations pretty much the same as it was when Sue was in grade school. We think our renters enjoy experiencing our family history as there are many photos of lake scenes, hunting and fishing memorabilia. There are a couple of souvenirs from our family trips out west in the 70's, still displayed and useful in the main room. See if you can figure what they are (hint: the cactus growing season in the U.P. is short!)
Now we offer our family treasure to summer vacationers to enjoy as much as we do. We're grateful to be able to keep it (and pay the property taxes!)